Kathy and Bill Winkler of WECO Distributors were provided with less-than-ideal wipers to hand off to their customer. When these failed to perform, they turned to the experts at Coastal Wipers for a new product. After careful research and several product iterations, the team came up with a recycled component fit for the application at hand.
Get to Know WECO
WECO Distributors of Florida is a small company that provides industrial supplies and related services. Since 1990, Bill and Kathy Winkler, co-owners of WECO, have supported companies in the maintenance, repair, and operations (MRO) industry. Initially, the company began selling wiping cloths to the marine industry in Southwest Florida. As their clients changed and no longer needed wipers, the WECO team shifted their focus to be more service-oriented.
Today, WECO continues to support their clients by providing safety inspections, cleaning services, facility maintenance, and assistance for special events. "In the manufacturing world," says Kathy, "wipers are very technical – there's a science behind them." When working in the MRO industry, it's important to supply clients with the specific wiper needed for their given application.
For every project, WECO works carefully to understand the environment at hand. This means that the WECO team can provide customers with the right solution to ensure their work is completed safely and efficiently. Due to their commitment to service, WECO has maintained strong relationships with several long-term clients who value their support. When needing assistance with janitorial services or safety inspections, WECO is a trusted team to turn to.
The Problem With a Bad Wiping Cloth
To provide high-quality services for their customers, WECO needs to supply high-quality products. The wrong wiper can easily damage products or hinder processes. Since WECO works with clients in a variety of settings, from factories to office buildings, they need to ensure that they are matching their clients to the right tools for their work.
Previously, Kathy and Bill were working with a supplier from out of state who claimed to have a specialty wiper for their customers. While this seemed promising, "the material came in bad, it wasn't doing the job," says Kathy. The product was only damaging the quality of processes for WECO's customers, all while charging a high price for a poor product.
When Kathy tried sending the product back to the manufacturer, they refused to help find a new solution or fix the problem that was created as a result of their wiper. As a business who strives to provide the best possible services for their customers, Kathy and Bill decided to turn to a new supplier for wiping cloths.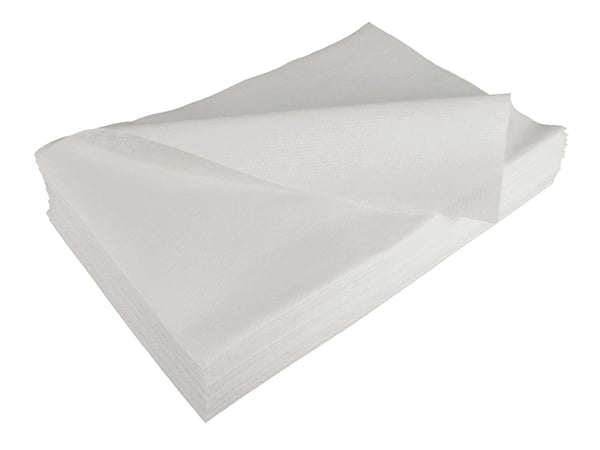 Working to Find a Reliable Wiper
From his time working in the industry, Bill Winkler had a relationship working with Gary Smiles and his son David at Coastal Wipers. When Bill explained the issue with the previous product to Gary, he immediately suggested working with Coastal Wipers to find a new and better solution.
"Coastal Wipers went through a series of other samples, of something that might work," Kathy shares. She notes that they tested about five samples and "ended up going with a product that worked beautifully," unlike the previous wiper.
Manufacturers of wiping cloths tend to produce a lot of waste. However, Coastal Wipers has found a way to minimize waste and produce high-quality wipers at a low cost. In the wiper industry, there are often scrap pieces or leftover products that are not big enough to continue to work with. By taking what is typically thrown out, David and the Coastal Wipers team can provide people like Kathy and Bill with an affordable recycled wiping solution that they can then pass on to their customers.
"[Coastal Wipers] is in it for the long run, not for the next order." - Kathy Winkler, Co-Owner of WECO Distributors
This recycled product is cheaper to produce in comparison to standard wipers, making it an ideal wiper for both WECO and their customers. According to Kathy, "When I tell them that I have a product that isn't working, Coastal Wipers says, 'No problem, we'll take it back, I want to see what the problem is.'" Unlike the previous manufacturer, Coastal Wipers is committed to ensuring that every product meets expectations, which can require careful research.
What's In Store for WECO
For years, Coastal Wipers has been a supportive partner for the Winklers. As WECO shifted their focus from supplying wiping cloths to becoming a service provider, Coastal Wipers has been there to step in when needed. With unmatched expertise, Coastal Wipers is a dependable resource for WECO to turn to when narrowing down wiper options. They are able to explain the best application for a product, why it should or shouldn't work for the customer, and do so in a timely manner. This allows for a seamless selection process for both WECO and their customers.
By using Coastal Wipers' products, Kathy and Bill are confident that they are supplying their customers with the best wipers available, ones that will hold up through tough jobs and assist with completing their intended tasks. With Coastal Wipers on their side, WECO is able to provide a service-first edge that sets them apart in the industry.
"We have been working with Coastal Wipers for so long that I don't remember what it was like to not have a knowledgeable resource to turn to in critical applications." - Kathy Winkler, Co-Owner of WECO Distributors
The Coastal Wipers team has repeatedly exceeded expectations by finding new solutions for wiping cloth products and applications for the Winkler duo. As WECO evolves, they will continue to rely on Coastal Wipers' expertise for all things wiping cloths.
Find Your Wiper Solution
Coastal Wipers is dedicated to providing high-quality wiping cloths and rags to clients across the nation. Not only does Coastal Wipers provide a variety of rags for any industry and application, but they will work closely with customers to help point them to the best product for their unique needs.
To learn more about wiping cloths for your business, get in touch with the Coastal Wipers team today!