Towels are one of the most versatile tools in any foodservice business. Not only are they used for quick front of house and deep kitchen cleans, but they can also function as a pot holder, trivet, or provide some extra grip in a pinch.
You might think that any old rag can get the job done, but that's not the case. For an item that sees so much use, it's important to have a rag that is highly absorbent, easy to clean, and long-lasting. With all of this in mind, there are several factors to consider when searching for the perfect addition to your commercial foodservice kitchen lineup.
The Importance of a Good Kitchen Towel
Though they may seem similar, commercial foodservice towels and rags are very different from standard kitchen towels that you might find at home. Rags that are made for restaurants, commonly called bar mop towels, are designed to withstand the heavy duty demands of a commercial kitchen environment that a common tea towel would not be able to handle.
The right commercial kitchen towel should go unnoticed, meaning it does exactly what you need it to do without leaving behind scratches or debris once you're done with it. When it comes to working in restaurants and kitchens, a high-quality towel is vital for optimal performance across applications.
Disinfecting
In the food industry, there are important standards to maintain for the health and safety of all restaurant-goers. This is where color coding is critical to help eliminate cross-contamination. One essential use of a commercial bar mop towel is to clean up spills and sanitize any surface that makes contact with food. The longer a mess is left unattended, the higher the chances are for bacteria to grow, which can result in health problems for kitchen workers and restaurant patrons. Clearly denoted color striped bar mop towels are vital for several uses in the front and back of house.
To mitigate any health and safety hazards, a color coding system should identify towels intended to be used in either the front or back of house. A towel with proper absorbency can quickly sop up any mess in the kitchen and be thrown into the laundry to be used again without mixing them with towels used for front of house. This is a simple solution to help keep all surfaces disinfected while abiding by food and safety standards, thus keeping everyone involved in the operation safe from bacteria and foodborne illnesses.
Performance
The last thing you need is for your commercial kitchen rag or bar mop towels to damage other items throughout the restaurant. Scratches left behind on plates can make tables, dishes, glasses, and cutlery appear dirty and poorly maintained, all because of a low-quality rag. Towels that are unfit for kitchen use can also leave behind debris, damage equipment, and dull knives, which are critical to keep sharp at all times, reducing the likelihood of injuries.
A 2019 study from the Bureau of Labor Statistics found that nearly one-third of non-fatal incidents in full-service restaurants resulted in employees requiring at least one day away from work. Instead of cutting corners, make sure that your commercial kitchen is equipped with reliable kitchen rags to keep everyone safe while doing their jobs.
Absorbency
A towel that isn't absorbent enough might just hold your team back. When selecting commercial kitchen towels, make sure they are highly absorbent to be able to pick up large messes and spills. You'll need something that can handle large-scale demands of a restaurant or bar.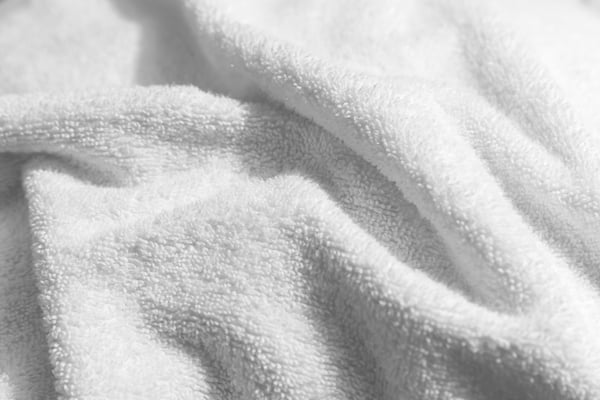 Durability
Towels that are constructed well will have a high density of fibers and are going to be durable enough for daily foodservice use. They will be able to withstand many cycles through the washing machine without falling apart.
When it comes to restaurants, you want to make sure that anything a guest may see looks clean and professional. A towel with tight stitching won't run the risk of snags, making your team appear messy in front of a dining room of patrons.
Texture & Material
The material and texture of your commercial kitchen towel is closely related to the intended purpose of the rag. Cotton with a terry cloth knitting creates a large surface area and forms a spongy material that's great for sopping up messes and wiping down counters. Keep in mind that they may leave behind some lint when used on glassware, but this problem should go away after a few washes.
In contrast, microfiber with terry cloth knitting does an excellent job of picking up small particles without leaving anything behind. This makes them great for quickly cleaning restaurant tables, glass ware, cutlery and wiping away debris from dishes when plating.
What to Think About When Shopping for Commercial Kitchen Rags
Before picking up any old kitchen rag, take a moment to consider what you need your commercial kitchen towel to do. In a high-traffic environment, you'll need a towel that is highly durable, extremely absorbent, and easy to clean. Let's take a closer look at factors to consider when looking for commercial bar mop towels and kitchen rags.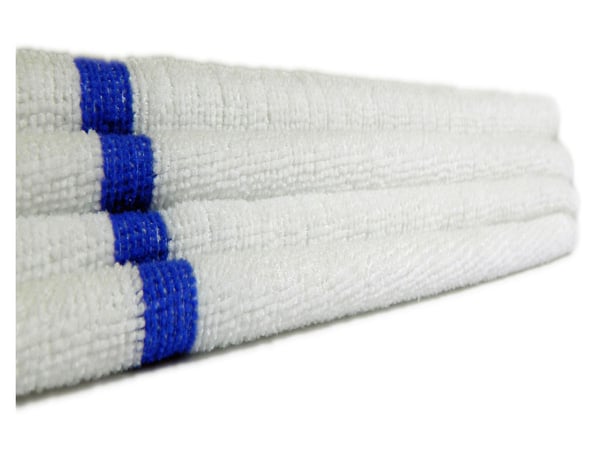 Size
The size of the kitchen towel may vary depending on what you need it for. A larger 15 inch by 27 inch hand towel is a great choice for sanitizing countertops, large tables, windows and floors. Using a towel that is too small for a large surface area will require multiple rags instead of one that is big enough to get the job done. In contrast, you'll probably reach for a smaller 15 inch by 18 inch bar mop towel that is ideal for small tables, kitchen equipment and tools, glassware, cutlery, and drying hands.
It's also important to note that, depending on the material, some rags may run the risk of shrinking after being washed. This is a factor that should be taken into account when shopping for commercial foodservice towels, particularly those made from cotton.
Maintenance
Commercial kitchen towels need to be easy to clean and able to withstand heavy-duty jobs without risking a tear or a snag from a thread. Make sure you select a commercial bar mop, hand towel, and kitchen rag that is resistant to stains and can be washed many times without compromising the quality.
In the foodservice industry, it's recommended that you wash your towels every day to avoid the risk of food-related illnesses. Using hot water and ensuring that the towels are completely dry can prevent the growth of bacteria on your rags.
Price
While commercial bar mop towels, hand towels, and kitchen rags are essential for any business in the foodservice industry, that doesn't mean you need to pick a set of towels with an extremely high price point. You might be used to disposable rags, but the cost to constantly replace these can quickly add up. Instead, opt for the right reusable and washable commercial kitchen towels to save money.
Upgrade Your Commercial Kitchen Towels
Don't hold your team back with low-quality restaurant towel options. Now that you have the knowledge needed to help you pick out the best rag for your commercial foodservice business, you can select a tool that will help your restaurant run without a hitch.
Coastal Wipers has an array of commercial food and beverage rags that will enhance performance in your restaurant or bar. We have a variety of wiping cloths to choose from in order to help you meet your specific needs. From cotton hand towels to microfiber bar mops, we've got you covered.
To get started and learn more about commercial kitchen rags for your restaurant, speak to a wiper expert today!